In the keyword column you will find 'not provided' for all users logged in to Google.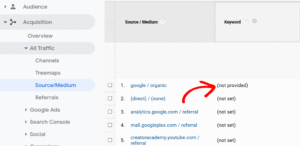 How to find out what logged in users are looking for?
Even though it's impossible to find out the exact keywords for 'not provided' queries, you can still get data about which landing page they went to. Simply choose a secondary dimension from the drop down menu and you will get information about which sub-page they visited.
By knowing the sub-page, you can easily gather more information about the most common keywords for these pages. So after all, it's not such a big loss for webmasters with the newnot provided keyword data. The only difference is you need to work a little more to get the information.