The Following Points are consist on my own experience hopefully this post will help you out in rectifying your SEO Mistakes.
Following are the most common mistakes often done by Experienced SEO Experts and SEO Specialist.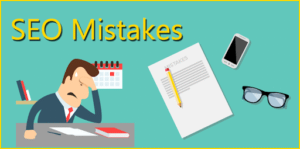 No.1 SEO Mistake "Targeting Wrong or Irrelevant Keywords"
Keyword Research is the most important part of your SEO Campaign you may fail even after putting all your efforts if you haven't target good keywords for your website, this is the most common mistake SEO Expert faces usually. You have to research before finalizing your keywords – SEO TIP: Keyword should be relevant to your website and its nature !
No.2 SEO Mistake "Ignoring the Value of your Titles"
I often see that many SEO's ignore the value of Titles, Title is the first aspect the search engine crawlers snap when they visit your web-page, Leaving Title tags empty is the foolish mistake SEO's do often. And i noticed many SEO's just use the same Title's for various pages of their website – SEO TIP: Put your keyword in your titles !
No.3 SEO Mistake " Pages without Textual Content"
What happened when you publish your pages without Textual Contents ? answer is "Nothing" But what if you put good textual information / textual content in your webpage ? answer is, Google will love your Pages and you will have good ranking as compared to pages without textual content.
No.4 SEO Mistake " Irrelevant Content "
It is recommended leave your pages empty ( with no Text ) instead of Irrelevant Content or wrong Information, Search engines ignore pages containing wrong information.
No.5 SEO Mistake "Using flash Files with HTML alternative"
I and many Internet users love Flash website but Unfortunately Mr. Google and Miss Bing Doesn't lol, Search engine hates flash website simply because they cannot read Flash Files or Images. By using of HTML alternatives you can easily handle the worst situations 😉
No.6 SEO Mistake "JavaScript Menus and Navigations"
Like the Above Mistake, Search Engines do not read the JavaScripts, There is two easy ways to solve the problem build a Proper Sitemap.html file or put your links inNo-script tags.
No.7 SEO Mistake "Submitting Links on Irrelevant Websites"
Many SEO Experts do this deadly mistake, Submitting your links on poor websites /Directories just to gain backlinks is very big mistake and it leads you to backlink spamming, Search engines consider these links as "Backlink Spamming" and you could lose your current rankings and PageRank as well. Avoid these foolish Tricks or your site may be black listed by search engines if you attempt these type of Backlink spamming Methods.
No.8 SEO Mistake "Keyword Spamming or Keyword Stuffing"
It is not recommended to use too many keywords on your website, Few years agoSEO Experts use these Practice to cheat with Search engines but now Google will kick you out, if you try to dis-guide Search engines with Keyword stuffing. – SEO Tip Write Rich content and put your good relevant keywords into your text.
No.9 SEO Mistake "URL / Link Structure"
Many Peoples ignore URL's importance but you have to realize its importance. You may get good ranking if you have dynamic URL structure. But if you have keywords in your URL's this practice gives you additional advantage over your Competitors. It is Highly Recommended that you put your keywords in your URL's.
No. 10 SEO Mistake "Avoid Blogging"
Not Blogging will not affect your current rankings nor you may lose your PageRank but Avoid Blogging is a Big SEO mistake let me define: Start spying on your competitors, many of your competitors write blogs and gain targeted traffic and Sales on various keywords.